Academies Advisory Committee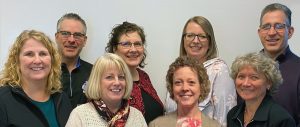 Bridges Academies Advisory Committee is a group of educators that represents a geographical cross-section of our service area. Their function is to:
Review Bridges Career Academies program processes, policies, and practices, and make recommendations for improvement.
Assist in determining needs for new and/or current Career Academy practices.
Provide information to help design, update, modify, expand, and improve the quality of Bridges Career Academies program.
Review and discuss Bridges Career Academies program related issues and concerns.
.
2020-2021 Committee Members
School
Aitkin
Brainerd
Browerville
Crosby-Ironton
Little Falls
Pillager
Pine River-Backus
Staples-Motley
Name
Kelly Bast
Brian Bordwell
Denise Olander
Nicole Doyle
Kolbi Grant
Ann Hutchison
Mary Sigan
Steve Jennison
Title
Teacher (Culinary)
Teacher (Engineering/Trades)
Teacher (Business)
Counselor
Counselor
Teacher (Hospitality/Graphics)
Counselor
Counselor
MEETINGS
The Academy Advisory Committee meets 4 times per school year, and corresponds regularly via email. The meeting schedule is determined at the start of each school year.
Business Advisory Committee
Bridges Business Advisory Committee was established in 2019 to provide feedback on business partnerships with education.
.
2020-2021 Committee Members
Name, company

Christina Landree, Pro Staff
Jeff Fitch, SCR
Jill Carlson, Mid Minnesota Federal Credit Union
Ellen Haglin, LINDAR/Avantech/Tri-ven
Kathy Sell, Essentia Health
Amy Sjoblad, Rural MN CEP
Bart Graves, Sourcewell
Debby Hoel, Pequot Tool & Manufacturing
Colleen Faacks, Mid Minnesota Builders Association
MEETINGS
The Business Advisory Committee meets as needed and corresponds regularly via email.